BiTriMulti (BTM) - OnlineTraining Course for newcomers in youth exchanges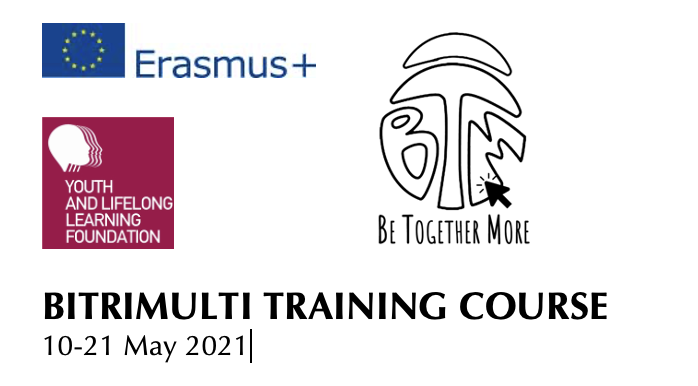 This training course is designed for voluntary and professional youth workers as well as youth leaders working directly with youngsters who are interested in setting up international youth exchange projects within Erasmus+ programme.
The aim of the BTM training course is to offer an international learning experience to practitioners active in the youth work field, enabling them to develop their competences in setting up quality Youth Exchange projects under the Erasmus+: Youth in Action Programme. Nevertheless, because youth exchanges were and are always part of the European youth activities and philosophy, this course will be very useful for the practitioners also after the end of the current Erasmus+ programme format. 


OBJECTIVES OF THE COURSE:
To provide an introduction to the current Erasmus+: Youth in Action Programme and its continuation, focusing on Youth Exchanges and their capacity to enhance young people's active engagement in the making of Europe, especially (though not exclusively) for newcomers to this and the next Programme;

To offer an individual and group learning experience through an 

online simulated process on setting up a Youth Exchange project

;

To develop the necessary knowledge, skills and attitudes to organise a Youth Exchange, based on the non-formal learning (NFL) practice, principles, and quality standards of the Erasmus+: Youth in Action;

To enable participants to reflect on their learning and to familiarise themselves with Youthpass – the strategy on the recognition of non-formal learning in the youth field, its technical tool to produce Youthpass Certificates, and its application in Youth Exchanges in particular and the Erasmus+: Youth in Action in general;

To offer the opportunity to meet online possible partners and to make contacts in other countries.
COURSE FORMAT:
The course is designed for online and has a duration of 6 days spread over 2 weeks. There will be 3 days of online learning per week (Mondays, Wednesdays and Fridays), 3 hours per working day of online activities with "home" tasks in between preparing the next steps.

THE BITRIMULTI TRAININGS WERE DESIGNED AND ARE DELIVERED BY ROTATION BY THE FOLLOWING TEAM OF TRAINERS:
ORGANISERS of the May 2021 edition:
INEDIVIM, The Hellenic National Agency for the Erasmus+ Programme



PARTICIPATION
You can only enrol in this 

training course

 if you have been selected as a participant by your respective National Agency of Erasmus + Youth in Action

 and received a confirmation e-mail.
Always check the SALTO Training calendar to see when is a new edition open or have a look at our Facebook page, at https://www.facebook.com/bitrimulti