Intercultural Competence Training on European Solidarity Corps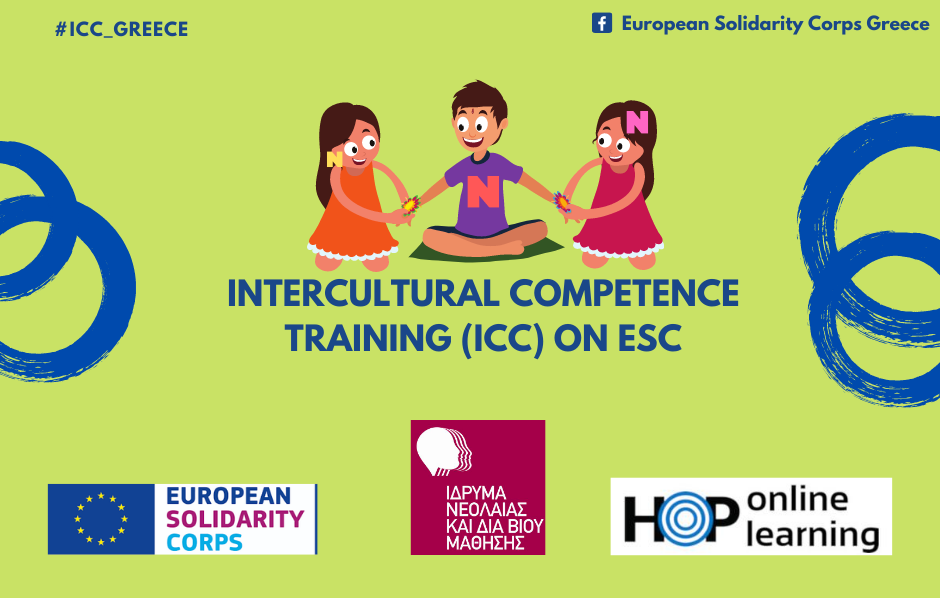 This self-paced course is for youth workers, youth trainers, youth project managers, volunteering mentors who are engaged in the European Solidarity Corps Programme and are interested in joining a learning experience that would support them in exploring and developing their intercultural competence.
What is this course about?
The online NET Activity "

Intercultural Competence Training (ICC) on ESC"

, organized by the Hellenic National Agency Erasmus+/ Youth & European Solidarity Corps, aims, through its 5 (five) sessions, to enable participants to develop their intercultural competence and enhance the quality of their engagement to the European Solidarity Corps in terms of participation, inclusion and solidarity.

This course aims to enable attendees to
recognize cultural variations in communication styles.

have a better understanding of the diversity of cultural values and attitudes.

explore and develop their intercultural competence in order to increase the intercultural, participatory, inclusion and solidarity qualities of their projects.

look into practices of application of intercultural competence within ESC projects.

enable exchange and networking among participants towards ESC projects' development in the future.
Units overview
Essentials of Intercultural Competence
Intercultural competence in ESC projects
How to improve Intercultural Competence
Webinar on intercultural competence
Self-assessment understanding of intercultural competence


Who is this course for? 
This course is for youth

workers, youth trainers, youth project managers, volunteering mentors who are interested to enhance their intercultural competence within the European Solidarity Corps.
How to register/enroll for this course?
The course is an open access course for everyone who is registered to the HOP Online Learning platform. For any queries, please contact 

Natassa Dedousi




*******
Course provider:
Hellenic National Agency Erasmus+ Youth & European Solidarity Corps/ INEDIVIM
Course duration:
self-paced (approx. 3-4 hours / module, five course modules for the course content)
Course language: 
English
Target group:
Youth workers, Trainers, Youth project managers, Volunteering mentors
Requirements:
registration on HOP
Last update:
October 2020